NewTel delivers an unparalleled set of productivity-enhancing features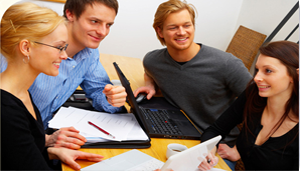 Find Me / Follow Me - Ring an extension to ring multiple extensions or outside telephone numbers - anywhere in the world.
Simultaneous Ring - Ring your mobile/home phone when someone calls your office.
Remote Office - Your office is now wherever you are, wherever you go.
Auto-Extension Listings - Callers select any department or extension from the company voice menu.
Push To Talk - Immediate inter office communication, including remote offices.
On Hold Music/Audio -Customers listen to company message or audio while on hold.
Holiday Message - Customers can customize a unique message for holidays and weekends.
Advanced Voicemail-Email integration - Voicemail can be delivered to your email.
Extension Panel - Full extension settings editing capabilities via user-friendly website.
Call Screen - Callers identify themselves so you can discreetly accept/reject call.
Call Forwarding - Easily forward incoming calls to any phone number you choose.
Conferencing - Allows 2 or more people to call into the system and talk.
Interactive Q&A -System asks questions and emails user's response to you.
Reporting - Reports include Active calls, invoices, rate plans and call history.
Call Recordings - Calls can be recorded in real time and listened to on your pc.
Interoffice Paging - Quick & convenient extension based interoffice paging.
Call Queue - Callers hear music on hold until someone is free to take their call.
Call Recordings - Calls can be recorded in real time and listened to on your pc.
Call Spying - Listen in on employees call or even coach a salesperson through a call where only they can hear you. The caller will never hear a thing.